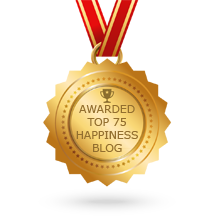 Lifetime Wishes is all about living a happier life by expressing wishes of care and prosperity to friends and loved ones. Generating more joy into the world brings it back two-fold. And that's just what Feedspot has proven by awarding Lifetime Wishes a slot on its comprehensive list of the Top 75 Happiness Blogs on the Planet.
No matter the time of year or occasion, there is always an opportunity to communicate positivity and appreciation with those who are important to us. Lifetime Wishes is dedicated to delivering inspiration for users to share hopes, dreams, understanding, and kindness with meaning and motivation.
After all, putting a smile on someone's face is just a click away, especially with our emotionally-intelligent online communications and gifting platform. Feedspot's recognition affirms Lifetime Wishes' commitment to correspondence that is pure, powerful, and passionate. Care and compassion foster relationships and keep them going strong…for a lifetime.
A heartfelt thank-you to Feedspot for this honor, and congratulations to the other 74 happiness-themed blogs with whom we share the goal for goodwill across the globe.